Book: Warner Grasscloth Resource
Design Studio: Warner Textures
Design Name: Pembrooke Stripe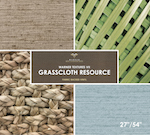 Click To See Entire Collection
This wallpaper is priced by the yard 54 inches wide. It is shipped in 15 yard increments only. This wallpaper is packaged in 30 yard bolts. This is a 20 Oz. fabric backed vinyl.
Order a sample for color match, if needed, for $4.99 each with Free Shipping.
($21.90 Yard 54 Inches Wide)
This neutral texture gives the illusion of a pleated fabric. The cream base of the wallpaper makes it extremely versatile when decorating. Pembrooke is an unpasted, fabric backed vinyl wallpaper.
Data sheet
Pattern Repeat

None
Pattern Match

Random
Prepasted

No
Substrate

Fabric Backed Vinyl - Scrubbable - Strippable
Width:

54 Inches
Height:

36 Inches
Bolt Size

30 Yards
Each Bolt Contains

405 Square Feet