Book: Farmhouse Living
Design Studio: Norwall / Patton
Design Name: Farmhouse Brick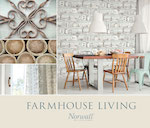 Click To See Entire Collection
This wallpaper is priced as a single roll and packaged in 2 roll bolts. Please add items in quantities of 2. It can only be shipped in 2 roll bolts. For every 2 rolls you order, you will receive one 2 roll bolt.
Order a sample for color match, if needed, for $4.99 each with Free Shipping.
Single vs Double Roll Bolt
Single Roll vs Double Roll Bolt
Packaging and Sizes
Wallpaper comes in different lengths and widths and, although usually priced by the single roll, it is packaged in double roll bolts. People may find this packaging versus pricing situation hard to understand. However, wallpaper is packaged this way because double rolls (2 roll bolts) provide more usable wallpaper than single rolls. Having a longer continuous roll allows for more full drops and less end of the roll pieces. A single roll is a unit of measure that usually contains 28 - 30 square feet. Just remember, wallpaper is priced by the single roll, but is available to ship only in 2 roll bolts. Example: If you order 8 rolls....you will receive four 2 roll bolts.
Roll Sizes
Width is measured in inches. Most widths will be either 20.5 or 27 inches wide. Length is measured in feet. Most single rolls will be either 13.5 or 16.5 feet long (or 27 or 33 feet long for double rolls).
Roll Coverage
The three most common single roll sizes and the corresponding square footage (width, length – respectively) are:
| | |
| --- | --- |
| 20.5 in. x 16.5 ft. = 28 sq ft  | ( 2 roll bolt 33 feet long with 56 sq ft ) |
| 27 in. x 13.5 ft. = 30 sq ft  | ( 2 roll bolt 27 feet long with 60 sq ft ) |
| 36 in. x 12 ft. = 36 sq ft  | ( 2 roll bolt 24 feet long with 72 sq ft ) |
We are happy to answer any questions you might have about your wallpaper purchase. Please contact us at 281-444-3691 or email us via the contact form if you need further assistance.
Beautifully grouted faux brick. Undeniably great looking and gives the appearance of real brick with rustic charm. This design has the ability to warm up a space.
Data sheet
Length - Single Roll

16.5 Feet (5.03 Meters)
Width

20 1/2 Inches
Length - 2 Roll Bolt

33 Feet per Double Roll (2 Singles Rolled Together on One Bolt) 10.06 Meters
Pattern Repeat

21 Inches
Pattern Match

Drop
Prepasted

Yes
Substrate

Solid Vinyl - Washable
Single Roll Contains

28 Square Feet - ( 2.6 m sq. )
Two Roll Bolt Contains

56 Square Feet - ( 5.2 m sq. )
Logan B.
I love the look of this gray brick wallpaper in my kitchen! I love the look of brick and this definitely does the job. Wonderful product, would recommend!
Leave a review